Many factors come into play in choosing the perfect shower tile, and often the shower's design will dictate the type of tile that can or should be used.
1. Use smaller tiles on curves. Depending on your shower bench design, you may need smaller tiles to handle the curves. Smaller tiles handle curves much better. By having the tile onsite before the shower's bench is designed, the angle of the curves and natural arcs can be worked out.
2. Think about how it will feel. A slab feels nicer to sit on than smaller tile, and a curved edge will feel great on the back of the legs. Sitting on a shower bench with no eased edge can be hard on the backs of your legs. Plan to use a slab or a tile that offers up a bullnose or a radius edge for your shower bench.
3. Be careful when selecting mosaic tile. Pick out a mosaic tile that offers at least 95 percent contact from the tile to the backer board. You need that contact from the wall to the tile! You don't want to trust the glue on a sheet of tile.
4. Small colored glass is easier to work with than large clear glass. Glass is hard to work with. Some clear glass tiles can show moisture trapped behind them and make a great shower look awful after just a few uses. Picking smaller colored glass tile is better. Many glass tiles have directional arrows so they all can be installed with the same orientation.
5. Use a second tile choice to make a feature wall. Adding a second tile choice as a feature is a great look I see more and more these days.
Be careful about using small ledgestone tile, unless you know your water does not leave staining on your tile. Ledgestone achieves the stacked-rock look — like on this shower wall — with the rough face of the stone facing out. The rough surface means that it's slow to drain, and water with a heavy mineral content will build up quickly.
6. Pick a smaller tile for a sloped ceiling. Building a sloped or angled ceiling is one of the many requirements of a  steam shower. Using smaller tiles makes for more graceful slopes.
7. Consider universal design. Pick a large-format tile and a one-way slope for easy access to the shower if you plan to age in your home. Using one tile throughout the installation can also make the room look much bigger.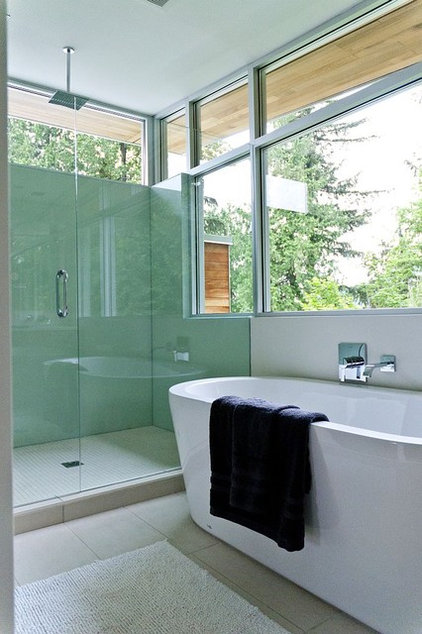 8. Keep cleaning in mind. If you hate cleaning your shower, use larger slabs or glass panels, since they making cleaning much easier than small mosaic-type tiles.
9. Use your main tile to frame a second tile. If your main tile of choice does not offer good slip resistance on your shower floor, you can frame a smaller tile with a larger tile.
10. Call R.J. Tilley's Design Team to create your dream bathroom! We have tile samples in our showroom for you to chose the perfect tile for your project.